The purpose of the online skill assessment is to help you focus your training on the specific skills, habits and techniques your employees really need top improve their effectiveness. Individuals complete an online assessment (approx. 10 minutes to complete) and are able to view a graph showing their competency level in specific skill categories.
Mangers and supervisors are able to view the individual results of their employees as well as the aggregate results of the entire group.
The results of this assessment can help you decide which modules to use in your corporate training program, where to invest your training resources and which skills to emphasize.
See example below: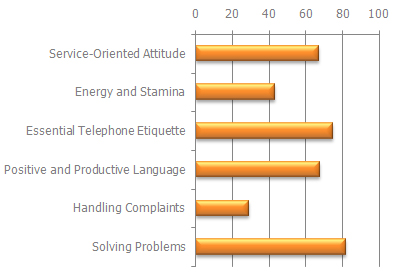 Please note – this assessment was not designed to be an employee selection tool. We do not recommend that it should ever be used as part of the process of assessing/hiring new employees. Rather, this assessment is a powerful development tool to help any employee pinpoint his or her skill development opportunities.